We always wanted to go to Sicily. This time it becomes true. End of March we start our journey. We leave the snowcovered mountains of the Alpes behind us and drive south. The temperature gets more and more pleasant. After three camp nights we are on the ferry to Sicily. Why should it be different? We have 6 beaufort by the crossing but our little camper is save between huge trucks. Our first campground is a lovely location between old olive trees.
With the local bus we explore the town of Messina. Right in time we are at the duomo and its campanile with the world's largest astronomical clock. It shows phases of the moon, the seasons and the signs of the zodiac.
Not only that: At noon a gigantic show starts: The lions roars, the cock crows, the angels ring bells, a church apears, Jesus arises, the honorary men bow - and all this to the tunes of a cacophony Ave Maria! A spectacle which has to be seen!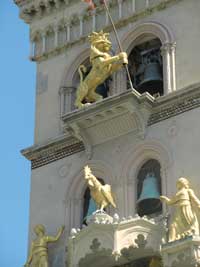 Right next is Orion's Fountain. Orion, the son of Poseidon, is said to be the founder of Messina.