After we passed hamburg we head for the coast of the North Sea.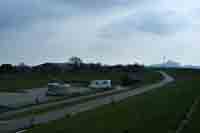 In Brunsbüttel starts the channel connecting the North and Baltic Sea.
The gigantic flood barrage across the Eider river was built in 1967 - 1972. It closes the mouth of the river and protects the country from storm tides. Believe me - it is pretty cold here!