July 6th:
We sail along the Datca Peninsula. At the cape the wind is too strong and we turn round. We drop anchor at a bay next to the city of Datca. Our guide book mentions heavy gusts and we have to agree to that - all night long with 25 knots!
July 7th: We sail along the coat back into the gulf. In this direction we sail with the wind and this is much more pleasant. The Bencik Bay cuts like a fjord in the land. This is the smallest spot of the Datca peninsula, only 1 000 Meter to the gulf on other side. Old Knidos was located here.
Deep in the fjord is a save berthing. No gusts! The bay is also called "shark bay", because some small sharks come here to spawn. We didn't see any shark but a sea otter!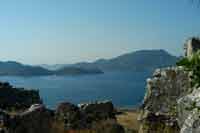 July 8th: We decide to sail again to the "Aurora" because of the food and because of the soccer game.