The plan is to sail to Mali Losinj. But when the wind comes from an uncomfortable direction, we change plans and sail with the wind to Orsor.There is not much space here, but we are lucky to find some space at the mole. The bridge opens late in the afternoon, this gives us time to explore this very old little city.
The old city of Orsor, a maritime centre, was incredible rich and had unbelievable 30 000 inhabitants! Today it might be about 100!. Orsor had its most important times during the Romans. When in the 15th century the harbour became too small for the large ships Orsor had to give its supremacy to the city of Cres on the other end of the island.
All over the little city sculptures from Croatian artists showing musicians are displayed. This refers to the many concerts of classic music which are held here in summer.
The road across the 100m long and 12m wide canal connects the islands Cres and Losinj. This canal exists at least till Roman times.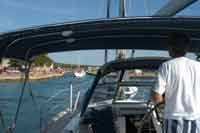 When leaving the mole we have a little problem with our lines and knots, but apart from some bruises nothing serious happened.