Next morning Rainer starts at 8 - before the sun comes. After breakfast he prefers the cool kitchen where he cuts the ripe picked up mangos in small pieces, cuts garlic and ginger. At night this will become Monika's famous mango chutney.
I have also been inventive to deal with the heat. I try to keep my shirt constantly wet to cool my skin. This helps a lot.
At 6 o'clock next morning I wake from thunder. For twenty minutes it rains. This makes it bit cooler than the last days. But only for the moment because in the afternoon the scale climbs to 36°. To manage the full wheelbarrow down is not so easy and sure enough mine turns over and the whole load falls out. Luckily the mangos don't roll to far!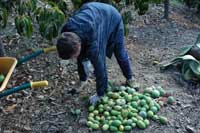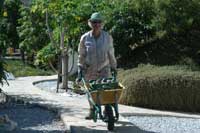 At this temperatures today nobody wants to go out in the mangos. But there is always work in the kitchen: peeling and cutting mangos, onions, garlic and ginger. Together with sugar, vinegar and spices it becomes chutney. No fruit gets wasted.